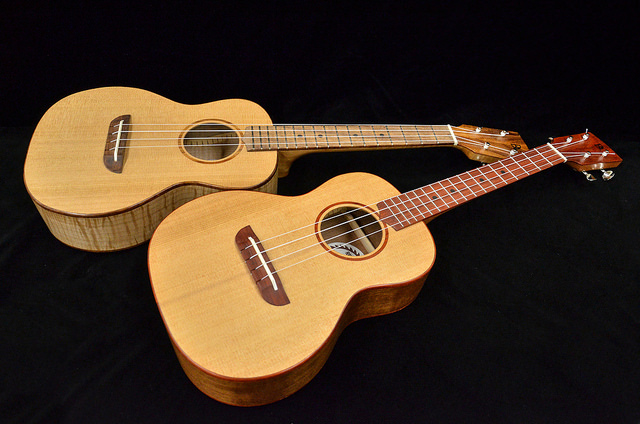 "Don't get a photo of the band aid on my fingers," laughed Kurt Gisclair, director of The RE Store. He and Matt Vaughn, Lead designer of Revision Division were working to insert the headstock inlay and there was no way to get photos without their fingers. The inlay they held was small and delicate, roughly the size of a quarter. And the headstock they were placing it into was smaller than either of their wrists. They were building a ukulele after all.
This was the first time Matt had ever built a stringed instrument, but it wasn't a stretch of Kurt's skills. In his free-time he is a luthier, but this was his first time teaching someone else. "In the world of craft, a luthier is held in some reverence. Kurt will try to downplay this, but it's true," explains Matt. "To build a stringed instrument, something like a guitar or violin, requires a deep knowledge of the way wood works that goes well beyond the finish carpenter, cabinet maker, or furniture builder."
Matt and Kurt had always talked of building an instrument from the reclaimed materials that come into The RE Store, and their stash of materials had finally grown enough to make it possible. If you looked through the tote of materials they pulled from, you'd see small bits and pieces of Sitka Spruce, Koa, Western Big Leaf Maple, Basswood, Gaboon Ebony, Paduk, African Sapele and more. The piece of quilted Maple that Kurt pulled from his firewood rack and milled into sides wasn't added to the tote until late in the game. To anyone else, the raw materials would seem daunting, almost terrifying in how they would need to be transformed. But to Kurt, each of these woods was very familiar, and he was about to share their secrets with Matt.
Three weeks after the started they had two finished ukuleles and plenty of new bandages on their fingers. Throughout the process they challenged themselves to purchase as little as possible; only the tuning machines and strings were store bought. Everything else was reclaimed, salvaged, or found. Let that sink in. These ukuleles were built from trash. Scrap. Waste. Things that other people didn't want. And they're gorgeous. Their beauty eclipses the fact that the materials they were constructed of were almost buried in a landfill or burned.
So what's the story here? Is it that of the ukulele's. Maybe that of the builders, or the different species of woods they used. It could be the story of waste. After all, waste isn't something that is, it's something we do. We make a choice every time we purchase single-use materials or throw away something that still works but isn't wanted.
Maybe, instead, this is a story is one of passion, creativity, and passed on knowledge. The passion of using one's own hands to create, the creativity needed to transform unwanted material into works of art, and the shared memories created when learning (or teaching) new skills. So next time you find yourself with a broken wooden chair, don't look at it with black or white thought. It doesn't have to be one or the other, a chair or trash. Consider dividing it into pieces; maybe the legs become a coat rack, a wind chime, or the passed down knowledge of wood spoon carving. And the seat or back could be a reworked cutting board or serving platter. Maybe this story has helped change your perception of salvaged materials and inspired you to think differently; to think creatively. So next time you walk through our aisles look past the dented furniture and scrap lumber until you see ukuleles and art pieces, family heirlooms and potential projects. Happy building.
See photos of the finished ukuleles and build process.