We sell high quality, second-hand furniture and building materials in Bellingham, WA.
Next time you're ready to thrift, flip, or do a home improvement project, shop here first to find a rotating supply of lumber, doors, cabinets, plumbing, electrical components, antiques, flooring, tiles, lighting, paint, tools, windows, furniture and so much more.
We are a 501(c)(3) non-profit. Each purchase you make at The RE Store funds our mission, diverts material from the landfill, and supports job training in Whatcom County.
Donating is easy
Don't believe us? Take a look.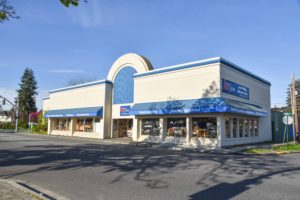 Visit The RE Store
Located in Bellingham's Fountain District, we accept a wide variety of used building materials and home supplies for resale. Visit our material donation page to learn more.
Donate your items
Visit us during our operating hours of Tuesday – Saturday: 11am – 6pm. Donations are accepted Tuesday – Saturday: 11am – 5pm.
Receive a tax receipt or in-store credit
For your donation, you get either an in-store credit for 25% of the resale value of your donated items, or a tax receipt. It's a win-win!
Shop with us
Since 1993, we have saved the community over $150 million in building materials costs and have diverted more than 52 million pounds of quality building supplies from the landfill. We sell a wide variety of reclaimed building supplies, doors, office furniture, home decor, yard and garden items, architectural salvage, and occasionally unique antique items. Our inventory is always changing and you'll rarely see the same thing twice. You can find our inventory in our online store and keep up to date on our Facebook page.
Discounts and deals
Our prices are at least 50% lower than market value, and you could be saving even more. We offer daily discounts, flash sales, and even a chance to win a shopping spree at The RE Store. Learn all the ways to save here.