Our retail store and warehouse is 20,000 square feet of lumber, doors, cabinets, plumbing materials and supplies, electrical components, and more. We work hard to divert as much reusable material as possible from the landfill, make your projects achievable, and to build a culture of reuse in our community.
Each dollar raised through our store's retail sales conserves valuable natural resources, provides job training to displaced workers, and advocates for a strong, resilient local economy.
Donating is easy
Don't believe us? Take a look.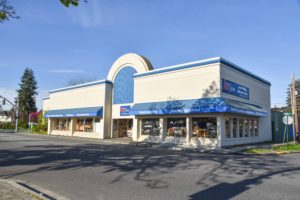 Visit The RE Store
Located in Bellingham's Fountain District, we accept a wide variety of used building materials and home supplies for resale. Visit our material donation page to learn more.
Donate your items
Visit us during our operating hours of Tuesday – Saturday: 9am – 6pm. Donations are accepted Tuesday – Saturday: 9am – 6pm.
Receive a tax receipt or in-store credit
For your donation, you get either an in-store credit for 25% of the resale value of your donated items, or a tax receipt. It's a win-win!
Shop with us
Since 1993, we have saved the community over $150 million in building materials costs and have diverted more than 52 million pounds of quality building supplies from the landfill. We sell a wide variety of reclaimed building supplies, doors, office furniture, home decor, yard and garden items, architectural salvage, and occasionally unique antique items. Our inventory is always changing and you'll rarely see the same thing twice. You can find our inventory in our online store and keep up to date on our Facebook page.
Discounts and deals
Our prices are at least 50% lower than market value. For additional savings, join us each weekend for our manager special sales, and save up to 75% off.
We also offer a variety of community coupons and daily discounts for students, seniors, and veterans. Visit our store and ask our cashiers for more information.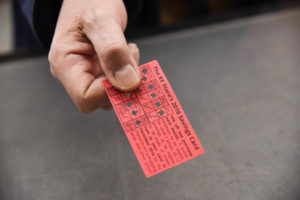 Get our punch card, win a 2 minute shopping spree
Use the punch card each month for 10% off your entire purchase. Turn in your card in December for a chance to win a two minute shopping spree or up to $100 in gift certificates.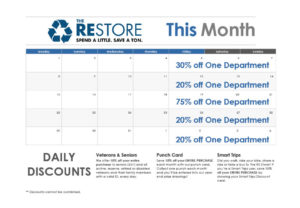 Save up to 75% with our weekend sales
Each month our managers set weekend sales, saving you up to 75% on already discounted items! Stay up to date with Facebook and our blog.
Daily discounts
We offer 10% off for seniors (65+), all active reserve, retired, or disabled veterans and their families, teachers, students and 15% off for Smart Trips users.