Here at The RE Store, our Revision Division builders manufacture hand-crafted furniture and home furnishings from reclaimed and used building materials. Inspired by salvaged materials and the history they represent, our products are built to last. Shop our listings in our online store. 
We believe in creative reuse
The home furnishings industry has a problem; single use culture and fast fashion are incredibly wasteful. Here at The RE Store we had a vision of a community in which people valued sustainably built goods. Instead of waiting around for a solution, we created Revision Division – a design / build laboratory and testing facility to craft gorgeous, durable products made from reclaimed materials.
Since 2011, we have crafted hundreds of individually designed pieces of functional furnishings out of reclaimed components from the store in our reclaimed building material center. We are passionate about promoting the practices of sustainability and enjoy inspiring others and giving back to our community through our work.
Responsible material sourcing policy
The RE Store is committed to the responsible use of our planet's natural resources, especially in regards to the materials used in the construction of our Revision Division home furnishings. Each one of our hand-crafted Revision Division home furnishings is made in our woodshop by our builders right here in Bellingham, WA.
It is our policy as a furniture manufacturing division of an architectural salvage organization to construct our products of 100% reclaimed and salvaged materials. Our material acquisition happens completely in-house, with materials sourced from The RE Store's inventory of salvaged and recycled building materials. This means that you can rest assured that our products are built sustainably of responsible sourced materials. We actively integrate scrap and unwanted metal, wood, glass, stone and other materials into our products.
In many cases the materials used to create our furnishings have lived long lives in the buildings and structures within our community before they came to us. You can see this in the various imperfections that we intentionally leave in our pieces – each scratch, nail hole and dent tells a story. We also work closely with manufacturing partners to divert usable materials from the landfill. Oftentimes these materials are perfect for our building process – take for instance greenhouses built with solar glass.
As a reuse center, we only accept materials that are legal for resale and have been sourced responsibly. We do our best to not accept materials that were illegally or controversially harvested; including materials that when harvested violated treaty or human rights, conservation values, or facilitated the transition from forest to non-forest use lands.
Through this policy, Revision Division aims to be a leader in building material reuse and to do our part in protecting our planet's natural resources. We hope that by showcasing the beauty of these reclaimed and recycled materials that we inspire you to reuse and recycle materials from your own projects.
In 2020, Revision Division was awarded top score in the 2020 The Wood Furniture Scorecard. The Wood Furniture Scorecard is an initiative of National Wildlife Federation (NWF) and Sustainable Furnishings Council (SFC) and is an important tool in promoting the responsible management of forests. Its goal is to encourage furniture retailers, big or small, to implement robust policies that drive responsible wood sourcing practices through their complex supply chains.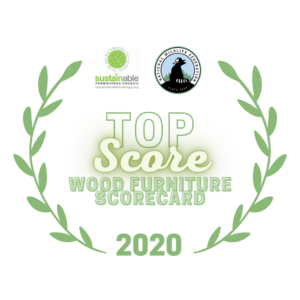 Meet the builders
Matt Vaughn – Designer / builder
Matt had over 20 years of experience in building and fabrication with a variety of materials before joining the Revision Division team. He gained his knowledge in a wide range of manufacturing techniques at the University of Washington, where he earned a BFA in Industrial Design and a second BFA in painting. At the same time, he began working in the building salvage industry in Seattle and developed a love for working with reused materials. Matt has lived in the Pacific Northwest for almost 20 years, with the last seven of those in Bellingham.
Special thanks
And a big thank you to past designers and builders Eberhard Eichner and David Spangler. We couldn't have gotten this program going without their creative force, and infectious passion for and innovation with salvaged materials. We appreciate their many years with us!
See our products
From large to small, complex to simple, we're always building new creations. Visit us on Instagram
@revision.division
, check out our
Flickr gallery,
shop our inventory online
or come into the store to see examples of Revision Division pieces.

Refurbished Furniture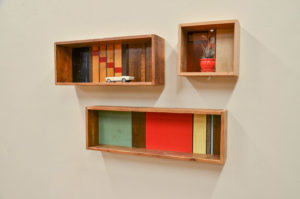 Shadowbox Shelves
Statement furniture
Where to buy locally
Visit our store or shop online
Experience the quality and unique character of Revision Division home furnishings in person. Visit our Bellingham showroom at The RE Store, 2309 Meridian St. New materials added to the show room each day! You can also see our listings on our online store or on Instagram.