By David Spangler
Chapter One: A Seed is Sown
Everyone who has worked at The RE Store has their own story of when and how they learned about this unusual institution. This is my story.
I discovered The RE Store by reading the Bellingham Herald sometime in 1993. I already believed in reducing home waste and was intrigued by this building-salvage thrift store idea. One day, I drove out to see it in person.
Aside from a couple of customers milling about and one staff person quietly tending to the mysterious tasks of a building salvage storekeeper, it was otherwise sleepy. There may have been a radio quietly playing music in the background. Even though The RE Store was just a baby, it's showroom was already chock full of building-related items, clean or dirty, used or new.
Down a small set of stairs was a dimly lighted area where dusty old windows, trim, door and window casings, shutters, roofing, and batts of fiberglass insulation were all stuffed or stored in various display fixtures. Beyond was a cabinet room with a tall garage door. "What an odd place…People actually buy this stuff?" I thought to myself. If there was indeed a market for such items, I was excited by the concept. Behind every item was someone who had taken the time to divert it from the landfill. I sensed a grand experiment was unfolding. It was an artist's dream, a tinker's heaven, and the salvage builder's goldmine.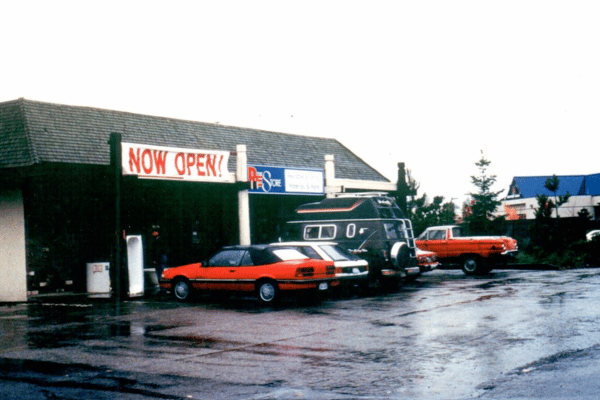 Airport Expansion
At that time, the Bellingham International Airport expanded its runways and flight paths, affecting many properties surrounding the airport. Many older houses on those properties, especially along Marine Drive, would be demolished over the course of years, and The RE Store was able to salvage many, if not most, of those houses.
I have always had a guilty fascination with watching demolitions, even as sad and gratuitously wasteful as they are. I had my eye on several solidly-built estates to witness their unfortunate demise. As the weeks and months of 1993 and 1994 unfolded, I toured several of those doomed houses in the wake of The RE Store's salvage operations, one of them, with a friend at night sneaking around like spies armed with flashlights. In each case, I noticed that the beautiful wood floors were curiously left behind to be crunched up with the rest of the house. I thought, "My goodness, why??"
Time To Act
For years, I had been brewing the idea of working for myself, and I saw then an opportunity—a niche I could fill. If there were customers for all the other materials The RE Store removed and sold, surely there must be a market for used flooring. But if The RE Store would not do it, someone needed to. But, with no trade experience and no floors to salvage, how would I ever learn to remove flooring?
I knew of a house elsewhere out of town that I had recently sneaked into. It had Douglas Fir floors where I could practice my techniques. Sadly, a letter to the owners was met with silence. Though I was tempted, I decided against doing it without permission. To gain salvage experience—legally—and answer why The RE Store was not removing wood floors, I needed to join those who knew the business better than anyone—The RE Store itself.
In late 1994, after I had worked only one week for a lawncare company run by an angry, liquor-swilling man, I quit that nonsense and called The RE Store about volunteering in the field. Bruce, the manager, called me back to discuss the idea and said that if I arrived in a pair of steel-toed work boots, I could help on their upcoming salvage job that following Monday. Deal! I hung up the phone, happy.
My First Day
On Monday morning in early January of 1995, I arrived at a brick building in Fairhaven about to be renovated into the new Amtrak train station. I shook hands with Bruce and introduced myself as they unloaded tools. At that time, I was an unemployed person in his mid-twenties, not currently looking for another job just yet, and had time on my hands to volunteer day after day. Knowing this, Bruce was a tad puzzled by me. He looked at my brand-new steel-toed boots with a curious smile and asked, "What's your situation? Are you independently wealthy or something?" I laughed. My savings from working in Alaska had cushioned my stints between jobs, but it would not last forever. I told him I wanted to learn how to go into business for myself salvaging floors and was looking for experience in the salvage industry. He smiled again, "Well, let's get you set up then. Take this pry bar and hammer and follow me."
Once inside the vacant building, I followed him up a grand staircase, later removed during the remodel, and headed down one hall. It's important to point out that since my interests also included other subjects like history, old buildings, and architecture, I was already in love with the work the minute I stepped through the front doors. After all those years of sneaking into abandoned structures, I now had, for the first time, permission to be in one. Bruce stopped at an open room with caution tape strung across the doorway and water dripping from the ceiling onto a pile of collapsed debris. "Don't go in there. There is standing water and live electrical. It's very dangerous." I nodded. Bruce showed me how to wield the pry bar and hammer to remove the trim and the subtle tactics used to avoid denting or splitting the dry wood. He showed me how to remove the finish nails.
Until then, I did not know there were jobs for people like me. I had spent years working many dreaded, boring jobs to pay my bills, support my creativity, and hike on the weekends. But this—this was different. This kind of work was something I could believe in. I had found my calling. I was all in.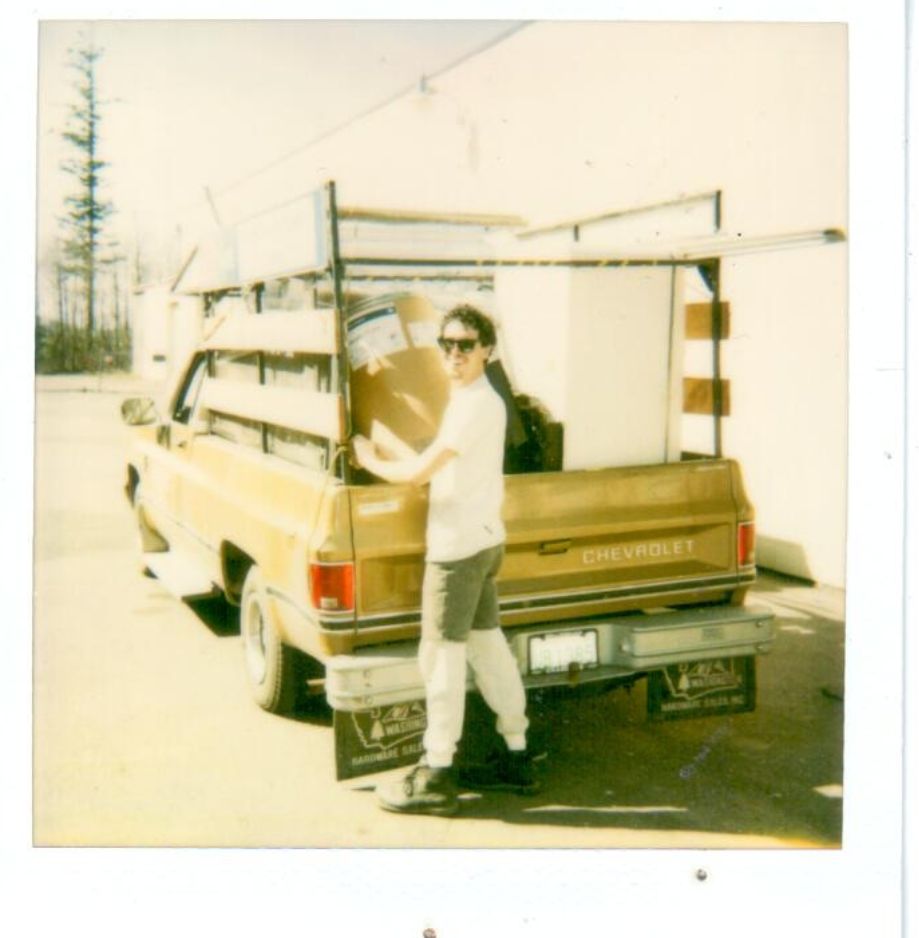 More, Please
After that project ended, I wanted more. I asked Bruce about other volunteer opportunities in the store and if there was any chance of getting hired. While there was plenty to do for a volunteer, there weren't any jobs open at that time. But Bruce told me to hang in there—it was on his agenda to discuss with the board adding an additional part-time position.
In the meantime, Bruce kept me occupied with paid work for a friend tearing down a deck, and additional volunteer days building magazine racks out of plywood scraps for the store—The RE Store's first attempt to create value-added items to sell. I made these on the floor in a dark, dirty area in the spacious warehouse they had just started renting part of at the other end of the building.
After a few weeks of budget wrangling, an additional part-time position was approved. Bruce offered the job to me.
But he needn't have asked. He already knew what my answer was.
Chapter 2: The Staff, Our Home, Signs, and Radios (1994-1997)