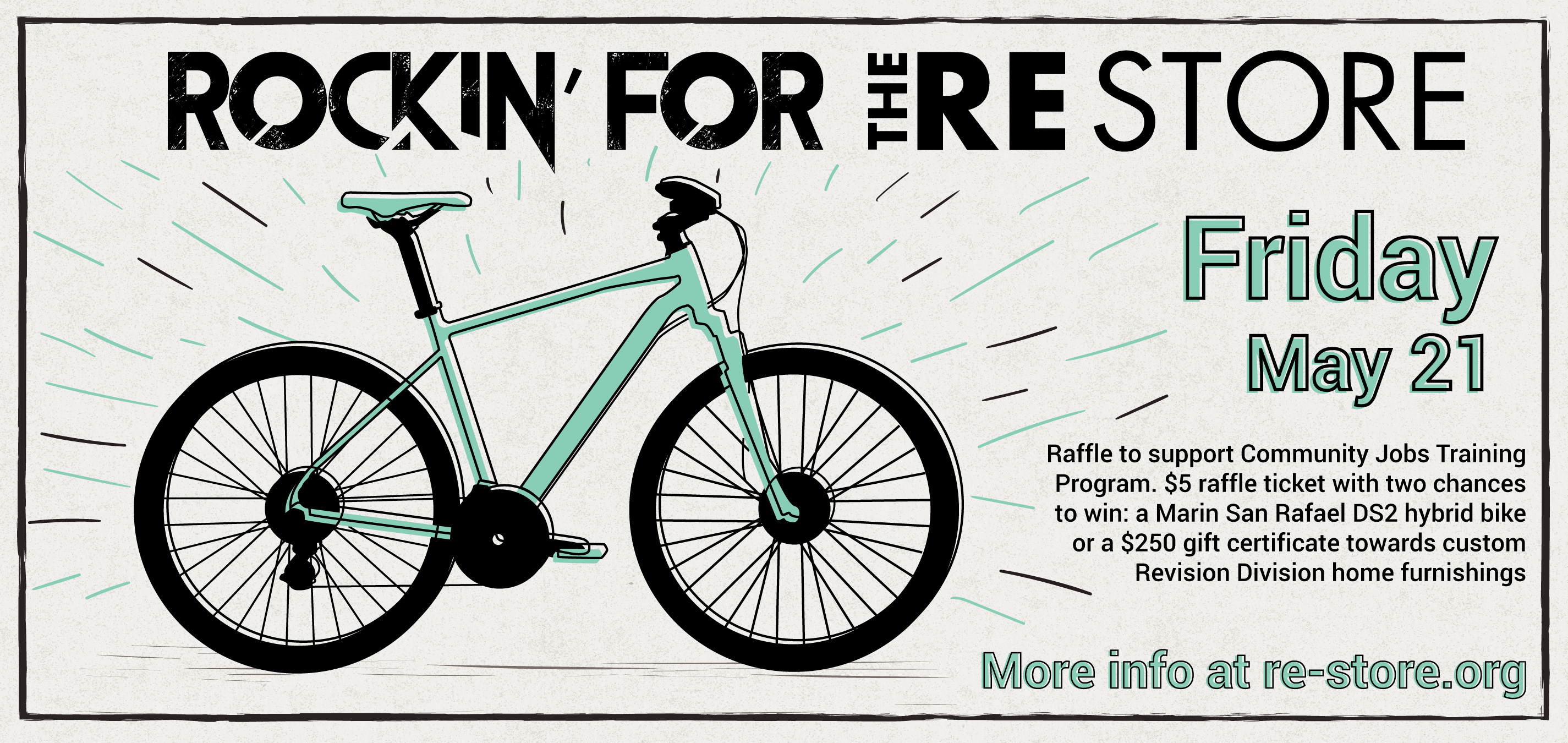 Update: We have added a third prize to the raffle. All raffle tickets now have the chance of winning a brand new 27″ 8-drawer Proto tool box.
To celebrate Bike to Work day on May 21, we've partnered with Brandon Nelson Partners Realtors and Earl's Bike Shop for our annual Rockin' for The RE Store raffle and fundraiser. We're raffling off three great prizes, a brand new Marin San Rafael hybrid bike, a brand new 27″ 8-drawer Proto tool box and a $250 gift certificate for custom Revision Division home furnishings. All proceeds from the raffle go to support our Community Jobs Training program, which provides free job training to historically underserved individuals. Raffle tickets are $5 and can be purchased at The RE Store, 2309 Meridian St., Bellingham, WA Tuesday – Saturday 11am-6pm through May 21.
This year's Rockin' raffle will support our latest Community Jobs Training initiative called the Revision Division Design-Build Training Institute, which will help trainees develop valuable design and production skills to prepare for careers in the manufacturing sector. The manufacturing industry is the fastest growing industry in Whatcom County – with 40% growth in the past 10 years, this industry supports more than 300 manufacturers and 9,000 manufacturing jobs. Our new Design-Build Training Institute will equip trainees with valuable trade skills such as carpentry, product design, material sourcing, tool safety and use, forklift certification and product sales.
The Revision Division Design-Build Training Institute began as a pilot program in 2019 with Tristan, a participant in our Community Jobs Training Program. While working with us, Tristan shared that he wanted to learn basic carpentry skills and how to build and develop products. He worked in the woodshop, learned about tool safety and material sourcing and built raised garden beds, a trellis and other products using materials from the Manufacturing Waste Diversion program. Read Tristan's story here. 
Trainees in the Design-Build Training Institute will follow in Tristan's footsteps, working directly with our experienced Revision Division craftspeople to design and build home furnishings from reclaimed materials and manufacturing by-products. By repurposing these items, Design-Build trainees will help divert usable material from the landfill while also providing our customers with value-added products available for sale in our online and brick and mortar stores. 
To support this work, we've set a goal of $10,000 for Rockin' for The RE Store to ensure that trainees like Tristan can continue to succeed in their career goals. You can help by purchasing a $5 raffle ticket or by donating to help us reach our goal. Raffle tickets will put you in the running to win one of our amazing raffle prizes: a 2020 Marin San Rafael hybrid bike, a brand new 27″ 8-drawer Proto tool box or a $250 gift certificate for a custom Revision Division furnishing piece. Get your ticket soon, only 1,000 tickets will be sold. 
Community Jobs Training Program wouldn't be possible without our partners. We're proud to have the support of Brandon Nelson Partners, Earl's Bike Shop, SaviBank, M.J. Murdock Charitable Trust and Allied Arts.