Restoring old tools is an easy and affordable way to add value to your shop. If you've read our blog on how to restore hand tools, you know that most restoration work can be done with materials found under the kitchen sink. Before restoration begins, you'll want to choose which vintage tool brands to buy second hand.
The tool industry has been shaped over the years by the founding of various companies, innovation and patents. From the founding of the Osborne, Mayhew and Klein tool companies in the 1850s, to the trademark of the ratcheting wrench in the early 1900s and the first use of the Craftsman trademark in 1927, tools have long been the workhorse of the American economy.
Here's our quick list of our favorite vintage tool brands to buy second hand. In our experience, these brands are high quality, hold their value and have remained popular amongst our customers, hobbyists and professionals alike. 
Craftsman – The craftsman brand was first trademarked by Sears Roebuck in 1927. For the better part of the early 20th century they were one of the largest name brands for tools. Today, Craftsman tools from 1946 to 1967, of what is called the =v= marked series, are considered to be some of the most sought after and highest quality amongst Craftsman lovers.
Proto – Plomb Tool Co. rebranded as Proto (short for PRofessional TOols) in 1948 and have become known as industry quality hand tools and accessories. One of their greatest innovations was the combination wrench, first introduced in 1933. 
SK Wayne – This tool brand got its start as the Sherman-Klove company, best known for their S-K Tool division. They have become well known as a high quality manufacturer of automotive hand tools. In the mid 1960's, they acquired Symington-Wayne. In 1934 they changed the history of tools with the patent for the first fine-tooth round-headed ratchet. S-K tools are popular with motorcycle mechanics and can be handy when tucked into a saddlebag.
Stanley – The Stanley Works, now known as Stanley Black & Decker, has been around since the 1920's. Vintage Stanley tools are known for their wooden handles, often made of beautiful woods such as Brazilian rosewood and beech, for their durability and their highly detailed metal surfaces. The most sought after tools are older tools with patent numbers stamped on them. Their woodworking tools, especially their planes, will make a great addition to your display case or tool box. Since 1984, Stanley Black & Decker has also owned the Plomb and Proto trademarks.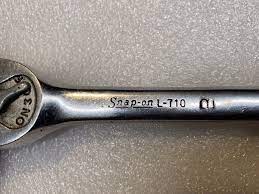 Snapon – Snap-On Tools are known around the world for their high quality and were founded on with the roll out of their "superior" interchangeable socket tools. Their sockets, socket handles, drive tools, and wrenches from the early 1900's are still highly desirable today. 
Vlchek – The Vlchek Tool Company started as a small blacksmith shop, founded by Frank Vlchek, a Czech immigrant from Cleveland, Ohio and quickly earned a reputation as being a high quality tool manufacturer. After World War II, Vlchek Tools supplied 85% of all tool kits included in new cars plus thousands of tools per day to hardware stores, mail-order companies and tool suppliers in the automotive and agricultural fields. 
Other well known brands include Wright, Mac, Matco, Thorsen, and Armstrong Bros. Tool Company. To learn more about these brands and others, visit the Alloy Artifacts website. This NPR piece is a good reminder that rarely does technology, especially when relating to tools, go extinct.