Celebrate with us! Whether it's an annual community party, monthly meet up, or educational workshop, we have a better time when you're with us. Sign up for our newsletter, visit our blog, or follow us on Facebook to stay tuned to upcoming events.
---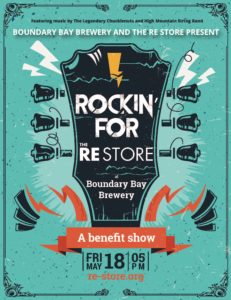 Rockin' for The RE Store
Friday, May 18th
5pm-10pm
Join us on Friday, May 18th from 5pm–10pm at Boundary Bay Brewery for the second annual Rockin' for The RE Store, a benefit concert, raffle, and auction to support The RE Store's Community Jobs Training program. This free for all-ages event will be held in Boundary Bay's outdoor beer garden.
The event includes live music from The Legendary Chucklenuts and High Mountain Stringband, a silent auction with incredible items donated by generous local businesses, and a raffle of big prizes totaling over $3,000! All proceeds from the evening go to support The RE Store's efforts to combat joblessness in Whatcom County.
Raffle prizes include dinner and lodging for two at The Willows Inn on Lummi Island, a double date spa package from The Chrysalis Inn & Spa and Lovitt Restaurant, and a Taylor guitar and lesson package from Mojo Music Discount. Raffle tickets are $5 and can be purchased at The RE Store on Meridian and Broadway St until sold out.
Community Jobs strengthens Whatcom County by investing in those who need help the most. By giving displaced workers the skills and confidence to support themselves, we're helping to increase local jobs and prevent homelessness. Last year we raised $10,000 and this year we're trying to double our impact by raising $20,000. By doubling our impact, we'll be able to support our 2018 goals of developing new curricula for trainees who demonstrate an aptitude for design and carpentry, manufacturing, salvage and deconstruction (construction trades), custodial, and sustainable gardening to be taught by store staff.
Before you come to this fun benefit, make sure to pick up advanced raffle tickets from The RE Store. Raffle tickets are $5 and can be purchased at The RE Store on Meridian and Broadway St starting in April. Raffle tickets limited to 1,000.
---
Visit our Flickr gallery to see some of our past events.