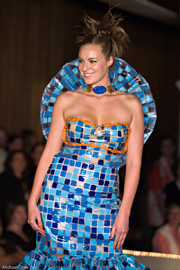 by Michael Cline
Lead Runway Photographer
The RE Store's Trash Fashion Show
Seattle ~ 2010
I was introduced to the trash fashion movement in early 2006.  Later that year, I had the opportunity to photograph them through the friendly folks at The RE Store.  Back then I had a few fashion shows under my belt, but didn't have the history or connections that are often so important. The event has evolved considerably from the shows being hosted in The RE Store's warehouse in '06. Their partnership with the New York Fashion Academy with their full-sized runway and spacious changing areas in 2007 took things to a new level.  Everything about the show has gotten better over time, reaching a much larger audience, and making a much stronger impression.
The designers and their creativity in reusing trash is truly inspiring. My favorite photos and designs have been from the 2009 and 2010 shows.The blue shower curtain dress from 2009 was my top pick. The dress was beautiful and the girl was glowing, and what could be more trashy yet elegant than an old shower curtain?
I'm torn this year between the upholstery sample patchwork outfit, "Sofalicious", and the Green Chair Project's mirror/reflective glass dress, "Window Treatment".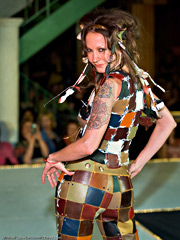 The upholstery patchwork outfit photo has all the classic qualities a photographer looks for: A beautiful girl artfully modeling an elegant design with a sassy spin and glance captured with a dramatic depth of field.  For the reflective dress, the model and dress just make an adorable package.  All of my favorite outfits look like they could be worn out on the town and receive only compliments, with few identifying their recycled history.
As a part-time photographer, it's hard to find events where you can shoot beside experts and learn the tricks of the trade.  To make this process easier, I started a group several years ago called Seattle Photography Group (www.seattlephotogroup.com) where photographers of different skill levels could work together to pick up new ideas and hone their skills.  The group has grown to 1,300 photographers, and is a force to be reckoned with.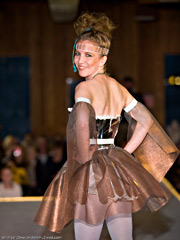 We bring a mix of expert and beginner or intermediate photographers to photograph an event. This year especially I'm impressed with how well the less-experienced photographers have done.  We might have to call them "experts" for next year.  The Trash Fashion photographers for the 2010 Trash Fashion Show were Michael Cline, Doug Bulger, Michael Rainwater, Jim Kennedy, Dan Hardy, and Wes Kirkpatrick.
More photos of The RE Store's 2010 Trash Fashion Show can be viewed here.
If you are looking for a skilled and passionate photographer for weddings or paid events, I can be contacted at 206-979-4229 or via email.