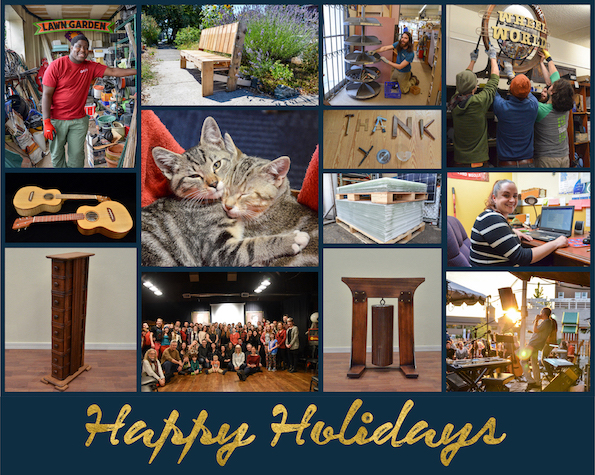 In 1993 The RE Store was founded by the community for the community with the goal of reducing the amount of material being sent to landfills. The problem was complex, but the solution was simple; give residents a place to bring their useable but unwanted materials so it didn't have to languish in the landfill. 25 years later, we're still focused on reducing waste to create a better environment, stronger local economy and resourceful community.
This year as we celebrate our 25th anniversary, we've been thinking of the many people, like you, that have chipped in, helped out, and made a difference over the years. So as we close out 2018, we'd like to take a moment to thank each and every one of you for being part of our community. You are the reason that Whatcom County is such a wonderful place to live.
2018 at a glance
Retail Store –What began as an experiment is now a fixture of Bellingham. One of our friends recently referred to us as "the most loved business in town." While we're humble enough to know that isn't true, we certainly feel as if we see most of our community on a daily basis. With your help, in 2018 we kept a whopping 3,910,000 pounds of material out of the landfill.  That's enough material to build nearly 15 homes – foundation, furniture and all! But more than that, The RE Store is home to things you just can't find at big box stores. That's why Don and Marcy shop regularly. "Marcy has an artistic eye and is always on the lookout for pieces to help furnish our craftsman period home. In fact, we've restored our home to craftsman period style thanks to the materials we've found at The RE Store. We've found items here that don't exist anymore, certainly you can't find them at big box stores. But we shop here for more than just that. I believe in sustainability, and I believe that the secondary use of materials is a great alternative to disposing of something. It's good for the economy."
Salvage Services – Salvage Services came to be in the late 90's as a response to a record amount of buildings being demolished. Since then, we've worked with homeowners, business owners, contractors and local and state governments to salvage usable materials directly from buildings. In 2018, we picked up and salvaged nearly 659,000 lbs of materials from over 700 sites. For Nancy, salvage allowed her to approach her remodel project with piece of mind. "I don't like things ending up in the landfill if they don't have to. This year I began a construction project and needed to remove a fairly new garage built in the 90's. The lumber and other materials were perfectly useable, so when it came time to remove the building I knew I didn't want the materials to end up in the landfill. I believe in in the phrase "Use it up, wear it out, make it do, or do without", so I'm glad my contractor suggested I call The RE Store for deconstruction. The Salvage Crew was super clean, super polite, and the job went better than I could have imagined. I really appreciated having the option to deconstruct instead of demolish. Our earth has limited resources, and if someone has already put the time and energy into forming a tree into a 2×4, it should get the maximum use instead of being wasted. I hope that someone got use out of the garage door, 2×4's, and other materials I no longer needed".
Revision Division – Revision Division started as an experiment and has grown into a movement. We first dreamed up our line of home furnishings as a way of combating the wastefulness of single-use culture and fast fashion. Today, we're proud to say that each of our home furnishings is made from 100% reclaimed materials. In 2018 our builders created nearly 300 one-of-a kind pieces. For Brandon, a regular Revision Division shopper, each of those furnishings is unique. "One of my mentors once told me that the definition of craftsmanship means that the closer you look, the better it gets.  Matt Vaughn and David Spangler of Revision Division personify that definition with their work. Their pieces are created with so much care and a sense of stewardship for the reclaimed materials they use. Each piece has layers of stories; stories of people, natural resources and a time long since passed. And each piece is crafted with a sense of artistic, ecological and cultural stewardship in mind that you don't see any more and I'm proud to know that I'll be able to pass these pieces down to my children and grandchildren."
Community Jobs Training – Like our other programs, Community Jobs was formed in response to a problem in the community – not enough job training opportunities existed for underserved populations. In 2018, the Jobs Training program provided nearly 3,000 hours of on the job training to 21 people. Derek's story offers a window into just how transformational job training can be. In 2017, Derek came to the RE Store as a volunteer. Recently out of prison, he was looking for a chance to change his life for the better. In 2018 he qualified for and and participated in a trainee position through our partners at WorkSource. Derek blew us away with his professionalism, kind hearted nature and deep care for the mission, his co-workers, and our customers. When a position came available, we were honored to welcome Derek into our staff family as a Salvage crew member. "I wanted to really transform my life into something completely different. The RE Store's job training allowed me to do that and now I have the ability to provide this service for others."
Manufacturing Waste Diversion – In 2014, after talking with our manufacturing partners in the community, we realized that manufacturers didn't have many options when it came to recycling and reusing. Last year we began a formalized partnership with local manufacturers to reduce the amount of material being sent to landfills. In 2018, we worked with 10 manufacturers to divert 160,108 lbs pounds from the landfill! For Rick at Silfab Solar, that makes a difference. "We have leftover material that's perfectly useable and there's no reason it should end up in the landfill. Before our partnership with The RE Store, we used to spend money and time throwing it in dumpsters and sending it to the landfill. By sending this material to The RE Store instead, we're doing good for the community in many different ways; the material is available to RE Store customers as valuable building materials and we're further reducing our carbon footprint. It's really a win-win."