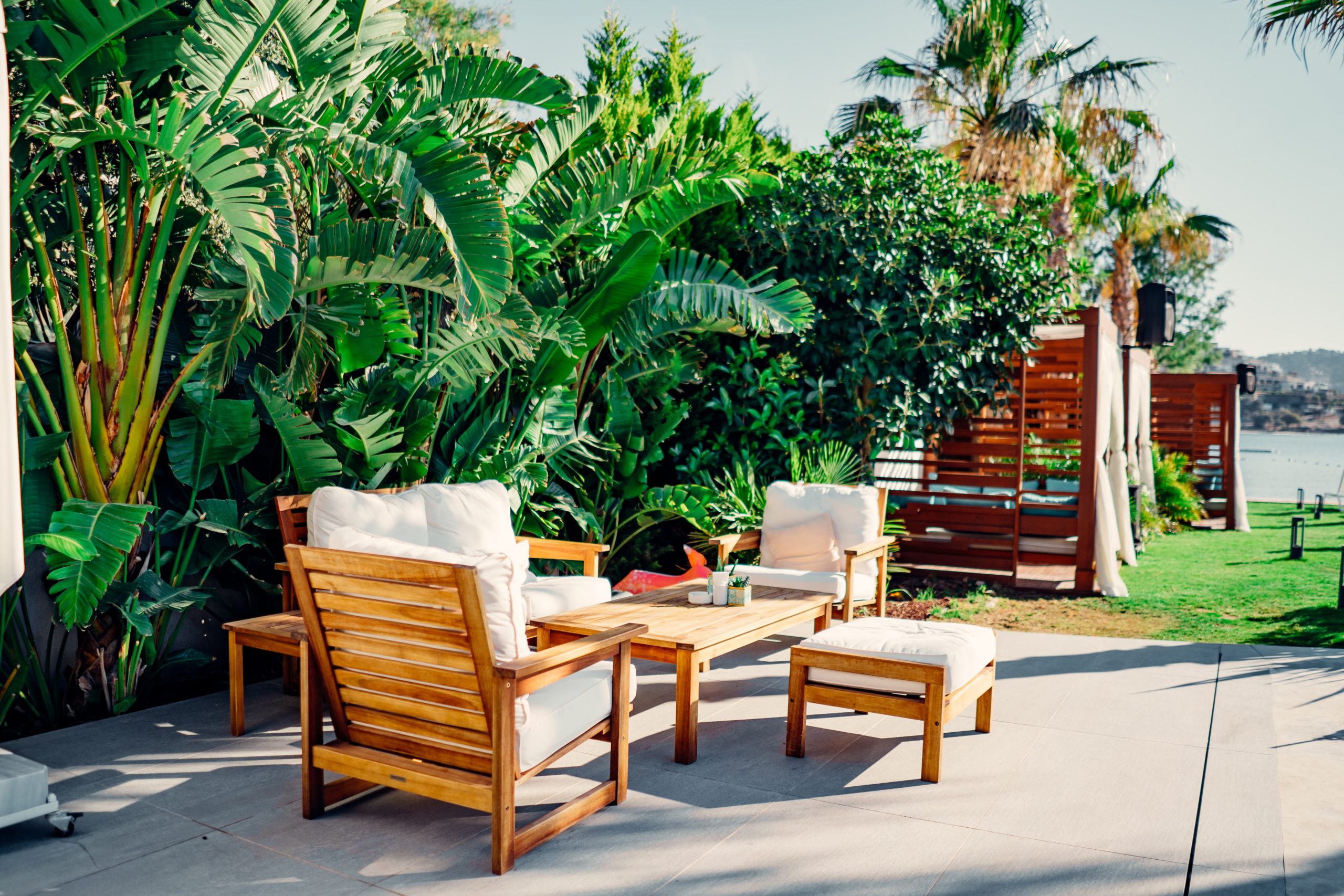 Teak furniture is the wood of choice for outdoor patio furniture. Like other tropical hardwoods, teak wood has a high oil and rubber content, a dense wood grain, and is rot, mildew and termite resistant. As a result, teak is nearly impervious to damaging UV rays, driving rain, rot and insect damage. For these reasons, teak is perfect for outdoor furniture, boats and other full-sun applications. But what happens when teak isn't properly cared for? It gets gray and dirty.
Luckly, it's easy to restore teak furniture. With a bit of elbow grease and some care, you can take that discarded teak table or set of chairs from "Meh" to "Oh My!" in no time.
Supplies you'll need to restore teak furniture
Teak furniture
Scrub brush & rags
Drop cloths
Teak wood cleaner
Hose with nozzle
Orbital sander with 80-grit and 150-grit sandpaper
Teak protectant
Personal protective equipment – gloves and eye protection
How to clean teak furniture
Before you begin, lay down a big drop cloth to catch any debris or chemicals. As always, wear your PPE to protect sensitive skin and eyes.
The first step to bringing teak furniture back to life is giving it a good clean. Using a rough scrub brush, scrub all sides of the wood, going with the grain. Make sure you remove any dirt, mildew, lichen, algae and anything else that may have made a home on your teak. Refrain from power washing teak, as it will strip natural oils from the wood.
If debris isn't coming off easily, a gentle sanding with an orbital sander and 80-grit sandpaper can do the trick, ensuring that you don't apply too much pressure. You only want to remove the outermost layer of wood, exposing the fresh wood underneath.
After scrubbing or sanding, clean your teak with a teak specific wood cleaner. Many teak cleaners work best on wood that is still wet. Scrub with a scrub brush or rag, working the cleaner into the wood grain. Let it sit a few minutes and then wash off with clean water. Be sure to get into hard to reach areas, continuing to scrub in the direction of the grain.
Once your teak furniture is fully dry, gently sand all surfaces with 150-grit sandpaper for a soft, smooth finish. Remove any dust with a dust cloth or rag.
How to restore and protect teak furniture
Now that your teak furniture is clean, it's time to restore and protect it. Most woods require a light coat of oil for restoration and protection. Teak, however, is unique. You'll want to get teak specific products, such as a brightener and sealer, to restore the original color of the teak, lock in natural oils and protect against further damage. It's best to avoid products referred to as "teak oil" as they are often a combination of linseed and other oils that require multiple coats, regular maintenance, fade quickly and react poorly with UV rays, causing the wood to stain dark and gray.
Wearing gloves and using a soft cloth, apply teak brightener to all surfaces of your furniture. Teak brightener will restore the naturally warm colors in teak, removing any dull gray stains. It will also help enhance the appearance of natural wood grain. In many cases, brightener can be applied when wood is still wet. Be sure to follow the directions of your brightener for optimal results.
After you've applied brightener and washed it off, let your furniture dry completely. The final step is to apply a sealer. A sealer will seal in oils and resins, while also blocking out any moisture, dirt or staining. Sealer requires less maintenance than a teak oil, and can be applied yearly to maintain and protect your furniture.
You've now successfully restored your teak furniture for years to come. If you're a low maintenance sort of person, reapply sealer yearly for long lasting protection.

Make sure to stop by The RE Store to see if we have any teak furniture in store.