Every Monday and Wednesday, three young adults report to The RE Store's Seattle warehouse, ready to work.  Krishneel, Katrina, and Trishanda spend ten hours a week restoring value to salvaged building materials.  They have varied backgrounds but share a common goal – to find stable employment.  Each of them gain valuable work experience during 10-week internships with the RE Store thanks to the Working to Achieve Growth in Employment Skills (WAGES) program, administered by the Young Adult Services department of YMCA of Greater Seattle.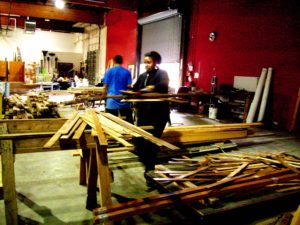 Krishneel glances out the open warehouse door and shakes his head at the pouring rain.   Originally from Fiji, Krishneel is not fond of the cool, soggy climate of the Pacific Northwest.  He hopes to eventually earn enough money to return to Fiji and visit his family.  In the meantime, he works part-time at a clothing store and participates in WAGES.  Krishneel hopes the internship will round out his experience and help him break into the construction field.  "I like to use all the tools," Krishneel says, "and learn about different types of wood."
Katrina puts her headphones on and tackles a pile of salvaged flooring, efficiently removing nails from each individual piece.  Unlike Krishneel, Katrina did not have any prior experience or interest in working with tools.  Regardless, she enjoys the work. "I'm going to use this experience for my resume," Katrina says.
WAGES interns are young adults ages 18-22, transitioning out of unstable living situations.   The program, funded by the City of Seattle's Working Zone initiative and coordinated by the Young Adults Services department at the YMCA, seeks to help young adults overcome hurdles to achieve job readiness.  This summer marks the third year for the RE Store's partnership with WAGES.  A total of twelve young adults will complete internships throughout the year.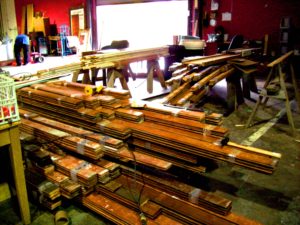 The additional labor from WAGES interns makes a huge impact at the RE Store.  In the first four weeks of their internships, Krishneel, Katrina, and Trishanda processed over 220 square feet of flooring, 105 linear feet of cedar siding and prepared doors and other building materials for reuse.  "It's a win-win situation for the interns and the RE Store," says Operations Manager Pat Finn Coven, "they get training and experience while helping us increase the materials we can divert from landfills."