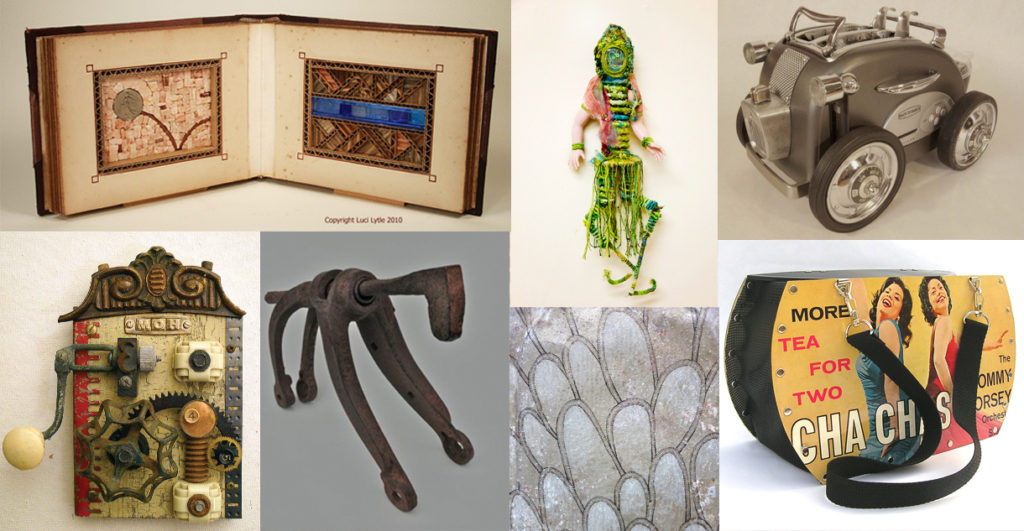 The end of April is near, and that means The RE Store's Recycled Arts & Fashion shows are coming to a close as well.  We've had a tremendous time – so many great art and functional art pieces and trash fashions were made – and we hope you were inspired and entertained too!  If you are finding yourself still craving more, but not sure where to turn – never fear!  We have at least a few more days to view all the galleries (two more weeks at Seattle's Blowing Sands Gallery) and we still have a plethora of Recycled Arts workshops for you to put that inspiration to use:
You still have time to add to the Collective Junk Sculpture at Whatcom Museum's Family Interactive Gallery (FIG) – until April 30th
Also, this Saturday you can help clean Locust Beach in Bellingham AND  create impromptu art with the findings in our Litter into Art: Beach Cleanup and Art Installation: 10am-1pm
Create art dolls from common household junk with WA State Arts Commission Artist, Diane Kurzyna, aka Ruby Reusable in our Seattle workshop May 21st:  Trash Fairies, Kitchen Goddesses, and Garbage Monsters
and back by popular demand – the Salvage Bride workshop with the creative newlywed, Rachel Levien, will be happening May 28th in Seattle as well.  She will show you how to find and transform previously used materials into everything from cake stands to candelabras.
Find out more information here about all of these Arts related events and workshops – and keep the creativity going!
Photo credits:  Luci Lytle, Eugenie Simpson, Graham Schodda, Tristan Francis, Thor Myhre, Michelle de la Vega, and Tracy Hanlin Mohr.