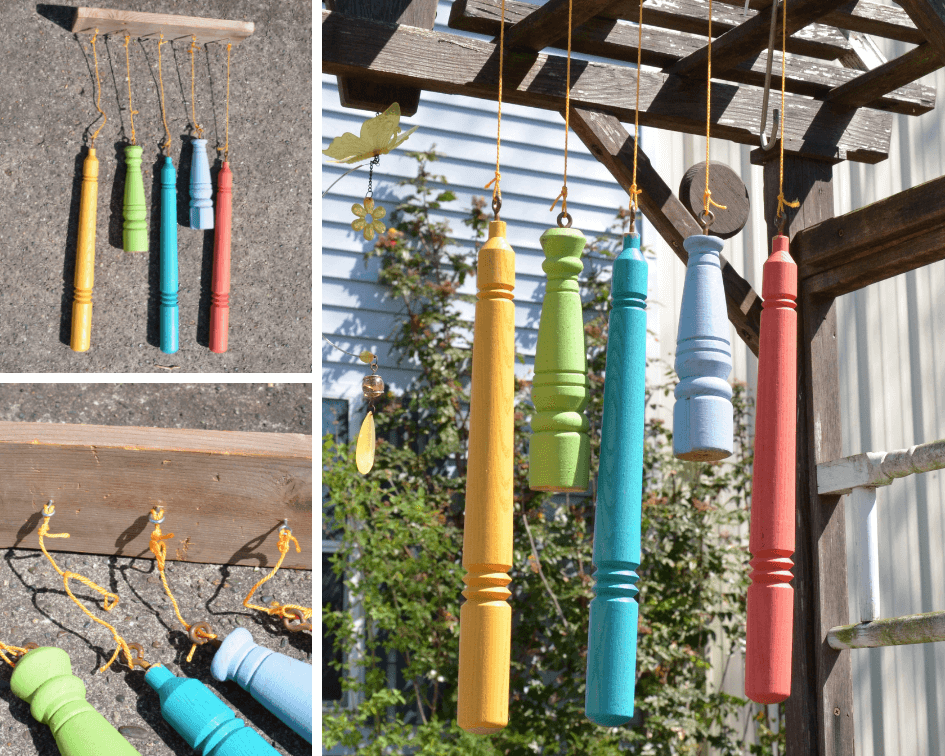 Here's a project that keep the minds and hands of your kiddos busy! Building a DIY wind chime is an easy way to pass the afternoon and will provide hours of fun.
Set your children to scouring the basement, backyard and garage for this fun DIY that channels the excitement of sound! And when all else fails, come visit us at The RE Store for low-cost supplies. This simple project requires little or no tool usage, depending on materials.
MATERIALS:
Chimes: Dried sticks, bits of hardwood scraps, old chair legs of railing balusters. The drier and more solid the better.
Sandpaper or sanding block
String: Acrylic, jute, or fishing line
Craft paint brush
Different-colored paint: old paint samples work great
Varnish
Eye screws
STEPS:
Go hunting for chimes. Different sizes and shapes work best. Dried pieces that are free from mold, rot or bug damage work best. To test your chimes, tap them together, whichever sticks make the most noise will work best. We used stair balusters as they are the perfect size and make great sounds.
Gather your materials and trim them to 8-10 inches.
Sand the chimes to prepare them for a fresh coat of paint. You'll want to remove any dirt, bark or other debris in this process.
Give each stick 1-2 coats of paint. Then coat them with one coat of varnish to protect them against the weather.
When the chimes are dry, screw in the tiny screw eyes into one end. It helps if an adult starts the screw, and kids finish twisting it in. It might be necessary to drill a pilot hole to get the screw started.
Tie a length of string to each stick. Be sure to test the lengths of string to make sure the chimes will knock into each other.
Tie the chimes to a low-hanging branch in the yard, or attach to a base and hang near a window.
Did your family enjoy this DIY? Check out our other kid friendly DIY's. 
This article was originally published on CascadiaWeekly.com in their annual Cascadia Kids Guide. See it on page 18.