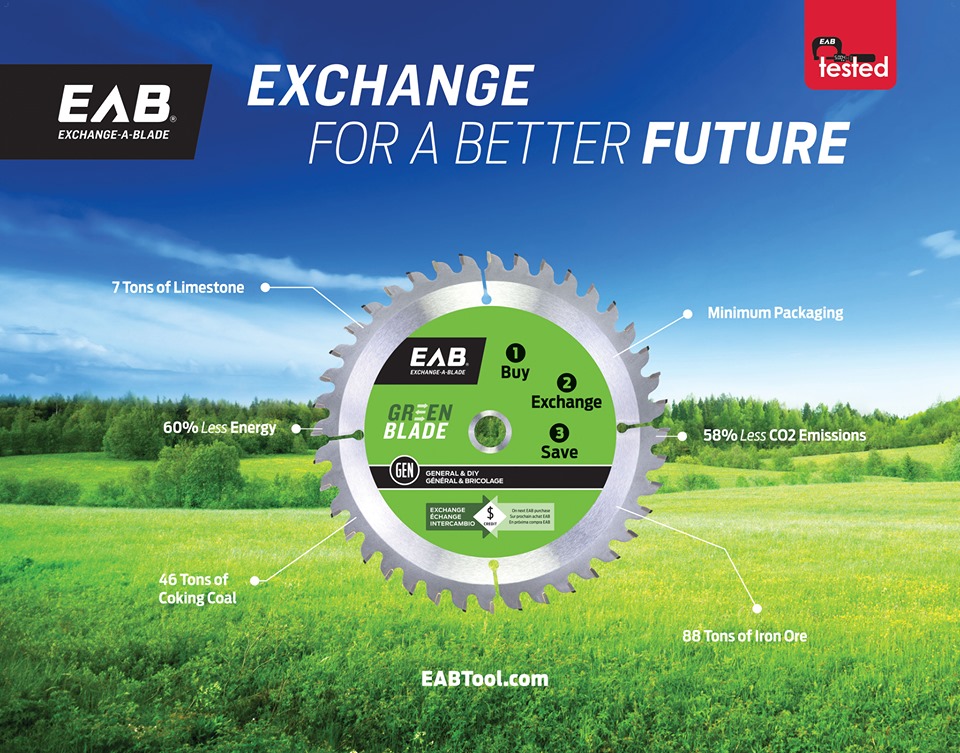 Many of us try to live by the phrase, vote with your dollar. But when you're shopping for tools, we often go with highest quality or lowest cost. Next time you head to your local tool retailer, consider a third option: tools built with sustainability in mind. 
Our staff use the Exchange a Blade (EAB) tool exchange program when shopping for power tools accessories. EAB manufactures over 500 power tool accessories; including blades, hole saws, bits, abrasives and more and sells them to local retailers. Consumers can purchase EAB accessories, use them, and then exchange dull or damaged tools for new ones at up to 40% off the full retail price.
EAB products are built to the highest standard, and they have different tools for the job. GEN products are made for DIY'ers and are constructed of C2 grade tungsten. PRO products are made for professional contractors and are made of tungsten carbide teeth, hardened steel plates and thinner kerfs. IND products are made for high volume contractors and commercial use and are made from hardened steel and C4 and C6 tungsten carbide teeth. With a wide selection, varying price points, and high quality materials, EAB products are an easy sell. But, it's their sustainable model that first caught our eye.
According to the EAB website, "The production of power tool accessories requires a vast amount of steel. And the production of steel uses many of our planet's diminishing natural resources." They continue with "the entire process of producing steel results in billions of tons of solid waste (1.28 tons for every ton of steel produced), water pollutants, and unclean air emissions." By utilizing the EAB program, consumers can do their part in keeping steel out of the landfill. EAB blades actively reduce waste and save valuable resources. Each year, the EAB program keeps over 60 tons of steel out of the landfill! So next time you shop, remember you can shop for price or quality, but you can also shop with sustainability in mind. 
Decon diaries: the series
Deconstruction is more than just salvaging reusable materials, it's also about what tools are in your toolbox.This is the part of a multi-post series that will dive into the interesting world of deconstruction. We invite you to follow along. As we add more to this series, click here to see the whole series to learn about successes, tools used, the permitting process and more.