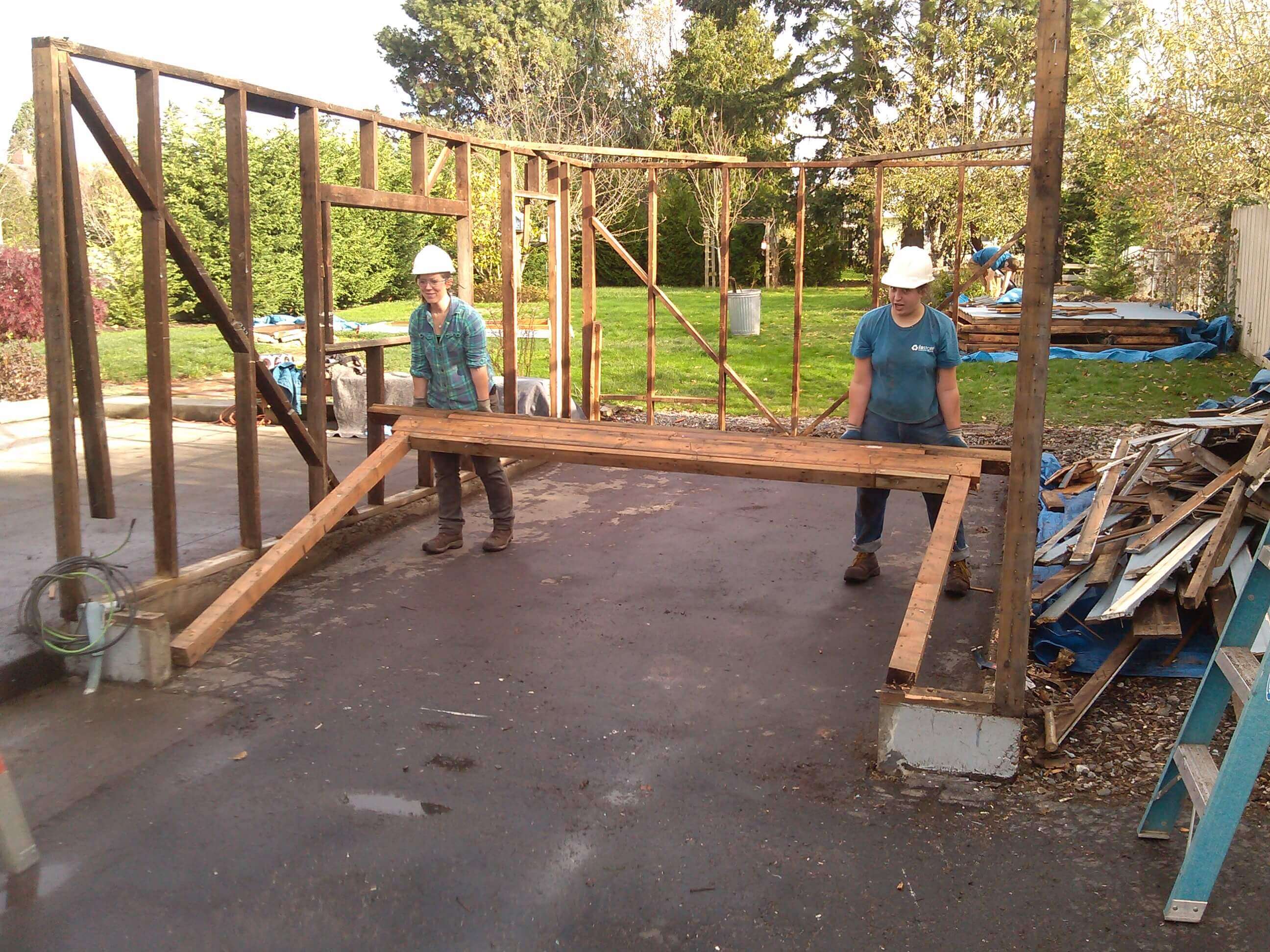 We recently stumbled upon a customer feedback survey from 2006 that made us burst out laughing. An open ended question asked customers what they would change about the RE Store. Our favorite response: "More hotter female employees." We found this response absurd, grammarless, and ultimately pretty funny. Whether this customer was wishing that current female employees were "more hotter," hoping for a larger quantity of hotter females, or just joking around will remain a mystery. What is not a mystery, however, is that there are real challenges to being a woman in a traditionally male-dominated field.
We currently have three women working in the Salvage Services Department at the RE Store. Although we all have experience with tools, deconstruction, and the trades, some people may be surprised to learn that we did not accidentally stumble into the cab of an unsuspecting RE Store truck. Prior to joining the RE Store, crew lead Kayla apprenticed at a woodshop after building treehouses from salvaged materials in New Orleans. Delaney, a crew member, joined us after completing a season of wildland firefighting, renovating a retreat center in Taos, and mucking and gutting flood-damaged homes in St. Louis. Marj, our Salvage Services manager, became a carpenter in 1982 after completing trade school in Seattle and has progressed from crew member to manager over the past 20 years. And all that just scratches the surface of our backgrounds.
One of the unfortunate challenges we face as women in the trades is receiving comments related to our gender on a daily basis. Comments range from from genuine concern:  "Please don't hurt yourself", or, "Let me call my son over to help!"; to incredulousness: "Really? Two women?", or, "They let you drive the trucks? Please don't hit my car!". Once a homeowner called us over to "gossip" and "get out of the way so the men can work." Unfortunately for the gossip lovers out there, we declined to get out of the way, and assured her that the men just slow us down.
On the surface comments like these seem trivial and we usually try to keep things fun by laughing them off without consideration. But these comments can also be damaging, as they communicate something larger about our values and culture. Although women represent nearly half of our national workforce, they are dramatically underrepresented in the trades, like in manufacturing, where women make up less than a third of the workforce.
We are proud to be a part of a salvage department that challenges that statistic with women outnumbering the men three-to-one and to be a part of an organization that values and promotes social justice as a critical part of its mission. While we may not be "more hotter," we assure you that we won't have any trouble lifting your heavy items. As always, thank you for your steadfast support.
Yours in salvage,
Delaney & Kayla