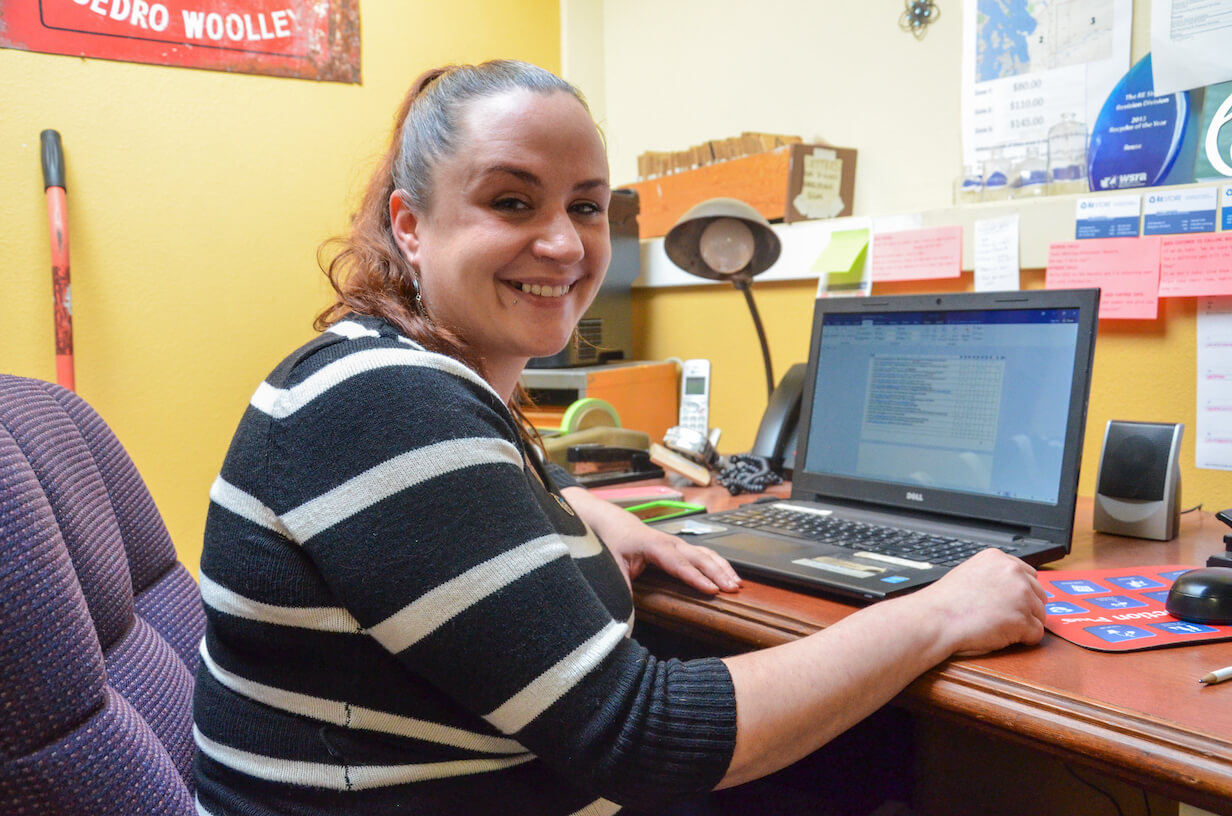 After 6 years in a dead end job, Samanda was ready to move up in the workforce. Despite holding the position of manager, she realized that she lacked the office experience that other managerial positions required. "I've always been good at typing and computer work, but have never been given the opportunity to develop those skills," says Samanda.
Samanda decided to complete her Administrative Assistant degree with Bellingham Technical College (BTC), but recognized that meant taking time off of work. The gap in job experience can make or break someone's job prospects as most businesses require recent job experience. While Samanda completed courses at BTC, she worked with an Opportunity Council employment councilor to round out her resume and increase her chances of being hired. Samanda's councilor encouraged her to obtain recent work experience by participating in the Community Job Training (CJT) program at The RE Store. "Not only has this training program provided me recent job experience, but it's also given me the chance to put my recently learned skills into action," says Samanda. "I know that I would have been passed over as a job applicant without this experience on my resume."
Samanda's determination to succeed has shown through in her work. She has become a valued member of The RE Store team and has been in charge of multiple high-level data entry projects at The RE Store. She's currently working on a master list of all of the recycling opportunities available to residents of Whatcom County. The finished list will allow The RE Store staff to act as an informed resource to the thousands of people that visit every week.
This sort of on-the-job experience has been invaluable to her skill growth. "When I first started, I was scared that I wasn't good enough, or that I wouldn't be able to do the work. This opportunity has encouraged me to grow my skills and helped me gain confidence. I learn something new every day." Along with her schooling and training program, Samanda has been participating in Opportunity Council's career counseling and is confident her new skills and training will help her secure a fulfilling and exciting new career.
---
Since 2013, we've been working with local organizations to support trainees in their career growth. Prior to 2017, we were able to support 4 trainees a year. Thanks to generous donations of attendees of our 2017 and 2018 Rockin' for The RE Store event, we've been able to support an ever-growing number of trainees. In 2017 we provided 17 trainees 2,000 hours of on-the job training. So far in 2018, we've provided 20 trainees with nearly 2,500 hours of on-the-job training. We hope to continue growing the Community Jobs Training program into a resource available to anyone that needs it.
This year, we'll be participating in Giving Tuesday, a global day of giving fueled by the power of social media. Giving Tuesday falls on Tuesday, November 27, 2018 and is an opportunity to come together and support causes you believe in in your community. We hope you'll consider donating us as we make a push to provide even MORE job training opportunities to members of our community. Follow us on Facebook as we count down the days until Giving Tuesday on November 27th.