Hedy Hanni had a crazy idea when she was 19. "I wanted to open up an artisan cafe when I was 19 in Chicago, where I grew up."
She now is the proud owner of the newly-opened Time In Play Cafe on Holly Street in Bellingham, with a brightly day-lit cafe in the front, a huge play structure and activity zone for families in the back, side rooms that host classes and a soon-to-be local artisan gallery / consignment shop.
"I imagined a community center that could be a multipurpose space, but was beautiful and nourished your senses where everyone in a family could have a good time. That was the original use as the space as the original YMCA from 1906 until 1942 when it was taken over by the Odd Fellows. But now I have brought the space back to its original purpose."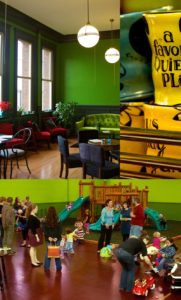 The idea has been years in the making. Hedy has lived 2 blocks away for 12 years, fantasizing about what could be done with the building and actively visioning on the play cafe concept for two and a half years, "But I had an 18-month old at the time so I just said HALT!" She wrote the business plan in June and opened on Oct 1st of this year.
Hedy bought all of the furniture and almost all of the fixtures used through craigslist, thrift stores and what she calls, "…my favorite store, The RE Store." The cabinets, lockers, armoire, former kitchen cabinet, book shelf, and signs made from cabinet doors are all from the non-profit's Bellingham store. She reupholstered and refinished the chairs herself in the front cafe area as well as in the play area and side rooms.
When asked why did she outfit her place with used furniture and fixtures, she didn't hesitate at all, saying, "That is what I believe in. I am a former Green Peace activist. The whole space is non-toxic, with as much of the furniture, building materials, play structure, pottery, and food as possible are locally sourced, organic and fresh. I bet I saved 75% on the furniture and fixture costs."
Why did she take on such a large project? She said, "Because I really wanted it. When my son Joaquim was born, we needed a place to go when it was raining and stormy. We haven't found many places that we both really enjoy."
How does she feel now that Time In Play Cafe is open? "When I am here and working, I feel really really happy. But as a result of the whole thing, I miss my boy a lot. He really wants to make the smoothies and he is very bummed that he doesn't get to be a worker. But he's 4."
So head down, say hello to Colleen (the name for the stylish espresso machine) and check out the wild espresso bar built from reclaimed lumber by Lucas Walker. Bring your friends, your kids, or just your laptop and enjoy this gem of a cafe in Bellingham, filled with creative reuse.