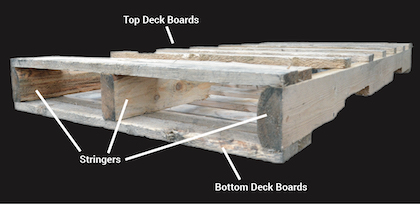 Here in the temperate PNW, we're lucky enough to host gardens that survive, if not thrive, all year long. If you've always wanted raised garden beds but have been put off by the price, here's your chance! This quick little DIY has easy instructions and step by step photos to walk you through how to build your own DIY raised garden beds from pallets.
Each year, the United States manufactures close to 500 million pallets. That's nearly 20 million trees! Unfortunately, we also throw away around 25 million pallets meaning roughly 1 million trees worth of lumber is sent to the landfill. By utilizing pallets, you're getting great lumber for cheap, and helping to extend the life of valuable building materials.
This DIY works with all types of pallets. We used a pallet with 4 stringers. Don't have time build your own DIY raised garden beds from pallets? We've got them in stock thanks to our Manufacturing Waste Diversion program and can help you get garden ready.
Choose your pallet – The best pallets to use for this project are heat treated. Look for an HT stamp on each pallet to confirm it is safe for gardens.
Take your pallet and draw a line along on the inside of your stringers on the top deck boards. Then cut along your lines. Flip over and do the same on the bottom deck boards. You'll be left with pieces that resemble a ladder. Set aside any scraps.
Knock the bottom deck boards off the pallet.
Do steps 1-3 until you have 4 pieces. These finished pieces will become the sides to your garden bed. Cut them to your desired length. We cut ours to resemble a rectangle. Arrange your sides together with the top deck boards facing outwards. The top deck boards are now the outside sides of your garden bed. Note: If you have pallets with 4 stringers, you'll need 2 pallets. If you -have pallets with 3 stringers, you'll need 4 pallets.
Connect your sides – Once you've arranged the 4 pieces in your desired layout, measure the inside distance of a side and cut four 2" x 4" supports to that length. These four supports will connect the four garden bed sides. Attach them to the pallet stringers, two on each end, and overlap them onto the two adjacent sides. Your frame is now complete.
Take the leftover scraps from your pallets and cut them to fit in the gaps between the deck pieces on the outside of your garden bed. Your sides are now complete!
If you'd like a rail on the top, 1×6 material works perfectly. Old fencing and wooden decking help add style points.
Choose a spot in your yard for your new garden bed. Lay down cardboard, place your bed and fill with soil. You're good to go!
This article was originally published on CascadiaWeekly.com in their annual Home & Garden Guide.