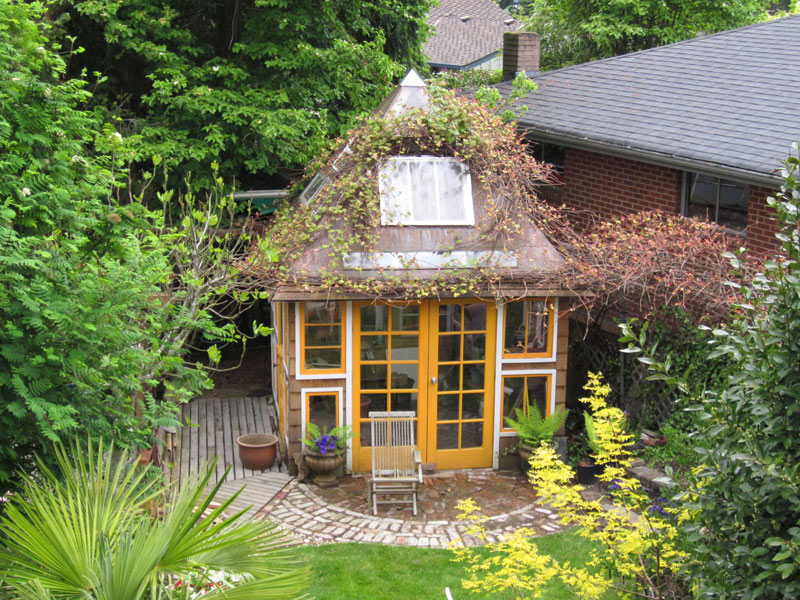 DW Clark wasn't planning to build a greenhouse, but after being gifted old windows by a neighbor, he knew what he needed to do.
Clark remembers, "Without thinking I said yes, and then had to figure out what I was going to do with them.  Because I had so many windows it seemed logical to build a green house."
Clark has lived in the northwest area for 15 years now with his wife and works at KOMO TV.  As an avid recycler he never contemplated using anything else but reclaimed items for the greenhouse.  He has other projects he's built recently including a pergola and a planter out of salvaged building supplies.  "I have always enjoyed finding new uses for discarded material," he said.
Clark built the structure in the shadiest part of his backyard due to space considerations. "It's more like a potting shed."
Clark used materials acquired from different places and people. He says, "The RE Store provided doors, hardware, bricks, bolts, shakes, plywood, 2 X 4's, the sink, concrete footings and a door weight.  A friend who was replacing his deck gave me his old decking.  And Mark Armstrong from Iron Age Design in Burien gave me a blemished draining grate, which was extremely nice of him."
The potting shed took Clark two years to complete by himself. Clark said that he faked his construction skills for most of the project. One interesting thing about Clark's potting shed is that the top is built in the same proportions as the Cheops Pyramids in Egypt and is oriented to north.
How did Clark feel when he finished it?  "Kind of surprised.  It came out pretty close to what I'd envisioned, and that was a shock."
Visit The RE Store's do-it-yourself guides to download a free guide for designing your own shed with used materials: "Extra Space or Special Place".