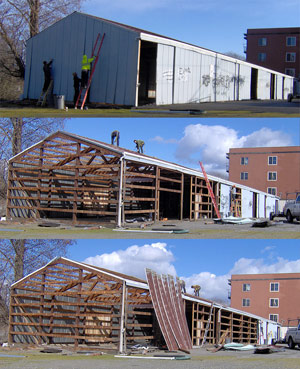 If someone asked you what deconstruction is, would you respond:
A complex philosophical movement about meaning that started in France in the 1960's
A new way of salvaging construction supplies from structures that are being demolished
The age-old method of recovering useful building materials from an existing building
If you answered 3, you are correct. The Roman Empire dismantled and reused ancient Egyptian architectural elements and other building materials over 2000 years ago. They repurposed construction supplies, known as spolia, from throughout the many lands they conquered. Building deconstruction has become a movement in North America over the last 2 decades. The top five reasons are:
Green building has become well-documented as a wiser way to build and remodel structures for all types of use
Resources and commodities have increased in cost
Waste disposal has become more expensive
Design and decor trends have grown the public interest in reclaimed materials
The "D.I.Y." movement has become hugely popular across television, radio, print and online channels
The deconstruction movement is spreading as businesses, tool research and development, national conferences and case studies all add fuel to the fire. The deconstruction industry's largest conference, Decon '13 is hosted by the Building Materials Reuse Association. The event happens this week in Seattle with a wide range of topics that include:
Designing for buildings to be deconstructed
Historic preservation
Deconstruction work force training and education
Use of low-value materials
Negotiating and permitting deconstruction projects
The RE Store's REvision Division will present our innovative and award-winning furniture building program
You would be hard pressed to find a better source of information, best practices, great networking and much more. Come and be a part of the movement this week, whether you are a builder, architect, demolition contractor, salvager, government project manager, politician or average joe working to stay abreast of the latest building industry trends. The RE Store has over 13 years of experience taking down buildings, including case studies on our website. Contact us today for a bid on your project. What topics would you like to learn about, in regards to deconstruction?