"How do people really think it is OK to just leave all their trash on the beach?" This question came from a Shuksan Middle School 8th grade student as we came across yet another pile of cans and bottles left from a beach party. The group of four students and their teacher were spending the last Friday of their five-week Service Learning experience picking up and sorting through trash found along Locust Beach. None of them had been to the beach before and upon arrival exclaimed how beautiful and "cool" it was. Their awe soon mixed with disgust as we filled up over 5 huge bags with mostly bottles and cans in 45 minutes. "What would have happened to all of this if we hadn't cleaned it up" another student asked before his classmate quickly pointed out toward the water showing exactly where it could all end up.
Each year, Shuksan Middle School 8th grade students have collaborated with organizations in Bellingham on service-learning projects that address real needs in the community. The RE Store was excited to host one of these groups again this year for a five-week period. The students arrived each Friday morning ready to work and learn more about how they can be community leaders in recycling and material reuse. Every week they worked on a new task and explored a different aspect of The RE Store. The students got dirty digging trenches in the RE Patch garden or sorting and stocking reclaimed materials. They also got some tool use training, building Mother's Day gifts with furniture designer Eberhard Eichner from materials found in the store. Armando Rodriguez "It was fun, we made our own chalkboards"
The last part of the student's service-learning experience is to create their own "take action" piece by organizing and leading a project of their own, incorporating skills and lessons learned while at The RE Store.  As we walked back from the beach, it was inspiring to hear them get excited about organizing their own beach clean up or hosting an "art from junk" day at school.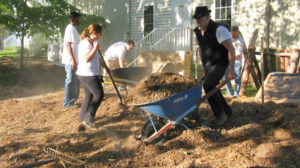 Already this year, volunteers have served over 1,600 hours with The RE Store. In addition to the Shuksan MS group, last Thursday 5 students from a Biology class at Whatcom Community College spent their evening working in the RE Patch garden space, digging trenches, laying down cardboard, mulching, and weeding. During most weekdays, mornings students from Bellingham High School volunteer in the store and receive training on different hard and soft green job skills. Another community member has been assisting the REvision Division in creating furniture.
The RE Store has a place for you, whether you have a knack for seeing the potential in materials, enjoy organizing treasures, need to complete an internship/service-learning requirement, or just have an interest in spending more time with us. There are always a variety of projects to be done and we encourage volunteers to think of their own ways they can partner with us. If you or someone you know would like to get involved please contact Rich Chrappa for Bellingham or Anita Smith in Seattle to find out more.