Books and Audio Resources
For your further education and enjoyment, check out these books and audio resources. We have hand-picked these books and learning resources to make the most of your precious reading time.
Your purchases through our independent book-seller partner, Village Books, support our non-profit organization!
Topics
Do It Yourself Design & Inspiration

A philosopher / mechanic destroys the pretensions of the high-prestige workplace and makes an irresistible case for working with one's hands. Shop Class as Soulcraft brings alive an experience that was once quite common but now seems to be receding from society, " the experience of making and fixing things with our hands."

"If you're seeking creative inspiration, or need a gift idea for that crafty person in your life, look no further than Salvage Studio of Seattle." –Shed Style

This absolutely indispensable and lavishly photographed guide redefines the best way to "go green" and addresses a timely topic in a way designed to appeal to a growing and eager audience. Completely user-friendly and filled with motivational case studies and informative graphics. Every page leads would-be remodellers through the process of understanding their home and surroundings so they'll arrive at the perfect design solution.
Selected as a finalist for the 2007 Nautilus Book Awards.

Author and farmer Judy Pangman combed the country to select these 45 plans for housing both laying hens and meat birds (chickens or turkeys). The coops range from fashionable backyard structures featured in the annual Seattle Tilth City Chickens Tour and the Mad City Chickens Tour in Madison, Wisconsin, to the large-scale, moveable structures Joel Salatin has fashioned for Polyface Farm in Virginia.
Restore. Recycle. Repurpose.: Create a Beautiful Home (A Country Living Book)
by Randy Florke and Nancy J. Becker
$24.95 Hardcover
@ 2010 Hearst
From Country Living contributing editor Randy Florke comes a this beautiful guide to decorating sustainably and inexpensively, with salvage materials featured prominently. Providing inspiration as well as instruction, Florke shows how everyone can achieve a look that's both harmonious with the environment and beautiful.
.
Fix It Yourself



Salvage Secrets: Transforming Reclaimed Materials into Design Concepts
Joanne Palmisano
$39.95 – Hardback
@ W. W. Norton & Company
An inspiring, practical guide full of possibilities incorporating salvaged materials, covering a range of materials and design concepts and supplies technical information about what to keep in mind how to use the salvaged materials most effectively, and where to go to find them.
.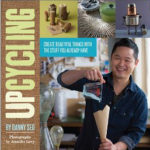 Upcycling: Create Beautiful Things with the Stuff You Already Have
Danny Seo
$18.00 – Paperback
@ Running Press
Renowned environmental lifestyle expert and Today Show regular Danny Seo shares 100 of his most inspiring projects for creative transformation.  With full-color photos throughout to guide and inspire, Danny shows that it's easy to be crafty, and fun to be budget- and eco-conscious.
Visit our other do it yourself pages: